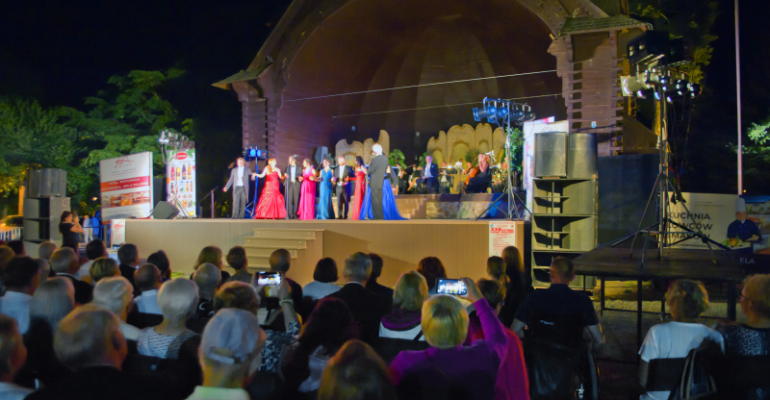 Rozpoczęło się ciechocińskie spotkanie z operą i operetką
Koncertem Galowym w muszli koncertowej rozpoczęła się 22. edycja Festiwalu Operowo-Operetkowego. W parku Zdrojowym publiczność wysłuchała arii w wykonaniu znakomitych solistów, także tych z młodszego pokolenia.
– Spotkanie z państwem ma szczególny wymiar, bowiem mam radość i honor spotykać się z państwem od pierwszej edycji tego festiwalu – przypomniał burmistrz Leszek Dzierżewicz witając gości podczas inauguracyjnego koncertu 10 sierpnia. – Mam to szczęście spotykać się z państwem od pierwszego festiwalu – wtrącił Kazimierz Kowalski, dyrektor artystyczny wydarzenia.
– Nie byłoby festiwalu, gdyby nie było Kazimierza Kowalskiego – zauważył burmistrz. – Nie byłoby festiwalu, gdyby nie burmistrz Leszek Dzierżewicz – zrewanżował się artysta.
– W trakcie tych 22 lat na deskach ciechocińskiego amfiteatru wystąpiły dziesiątki znakomitych artystów. Artystów, którzy przyjeżdżali na ciechocińskie słonawy, aby dawać państwu radość i niezapomniane wrażenia. Jestem przekonany, że tak będzie i podczas tegorocznej edycji festiwalu.
Ci wszyscy artyści z przyjemnością odwiedzają Ciechocinek, ponieważ wiedzą, że to właśnie tutaj można spotkać najwspanialszą publiczność świata – podkreślił burmistrz.
Festiwal Operowo-Operetkowy trwał od 10 do 14 sierpnia, od niedzieli przeniósł się do Teatru Letniego, gdzie publiczność mogła wysłuchać koncertów "Mistrzowie operetki", "Najpiękniejsze duety świata", "Przeboje Programu I Polskiego Radia" i "Najpiękniejsze romanse rosyjskie".
W Ciechocinku wystąpili m.in. Aleksandra Borkiewicz, Anna Federowicz, Małgorzata Kulińska, Małgorzata Kustosik, Ewa Szpakowska, Małgorzata Trojanowska, Wiesław Bednarek, Andrzej M. Jurkiewicz, Aleksander Kruczek, Andrzej Płonczyński, Eugeniusz Ratajczyk, Paweł Sztompke, Łukasz Załęski i oczywiście Kazimierz Kowalski, dyrektor festiwalu. Festiwalowi towarzyszy Orkiestra Polskiej Opery Kameralnej pod dyrekcją Kazimierza Wiencka.
Festiwal honorowym patronatem objęli Piotr Całbecki, Marszałek Województwa Kujawsko-Pomorskiego i Ryszard Bober, Przewodniczący Sejmiku Województwa Kujawsko-Pomorskiego.
[Fot. Wojciech Balczewski, Magdalena Preis]