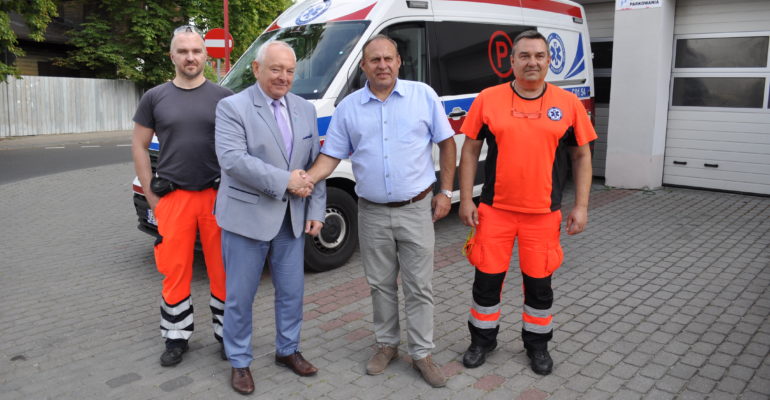 Karetka pogotowia na stałe w Ciechocinku
Karetka pogotowia stacjonująca w Ciechocinku została włączona w krajowy system ratownictwa medycznego. – Po 20 latach karetka na stałe wróciła do Ciechocinka – podkreśla Mariusz Trojanowski, dyrektor Szpitala Powiatowego w Aleksandrowie Kujawskim.
W ostatnich latach karetka stacjonowała w Ciechocinku tylko w sezonie, dopiero w ubiegłym roku została w uzdrowisku do grudnia. Teraz decyzją wojewody zakontraktowana jest na stałe. Nie byłoby to możliwe, gdyby nie 100 tys. zł wyasygnowane z budżetu miasta.
– Dla samorządu bezpieczeństwo mieszkańców i gości zawsze było jednym z priorytetów – podkreśla Leszek Dzierżewicz, burmistrz Ciechocinka. – Karetka będzie cały czas stacjonować w Ciechocinku i ratownicy będą do dyspozycji potrzebujących. To wielka sprawa i wszyscy w Ciechocinku na to czekali – dodaje.
Mariusz Trojanowski zaznacza, że wraz z władzami samorządowymi od lat zabiegał o stałą obecność zespołu ratowników w Ciechocinku. – To miejscowość uzdrowiskowa, przyjeżdża tu wiele osób chorych. A ta złota godzina, złota minuta ma ogromne znaczenie. Będąc na miejscu, ratownicy mogą działać od razu. To znaczna poprawa bezpieczeństwa – podkreśla.
W Ciechocinku stacjonuje nowoczesna karetka, której zakup także wsparł budżet miasta kwotą 100 tys. zł. – Mieszkańcy Ciechocinka mogą spać spokojnie – mówi Jarosław Markiewicz, ratownik medyczny.