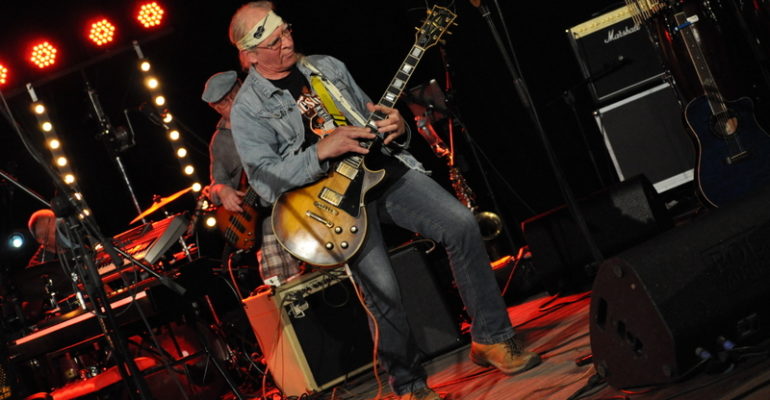 Happy Guitar Fest. Gitary zagrały w Teatrze Letnim
Miłośnicy gitarowych dźwięków mogli się poczuć jak w siódmym niebie podczas Happy Guitar Fest. W Teatrze Letnim 14 września wirtuozi tego instrumentu pokazali, jak bardzo jest wszechstronny.
– W ramach święta muzyki i gitary chcieliśmy zaprezentować pogodne, gitarowe oblicze muzyki jazzowej i blues-rockowej – mówi Jerzy Szymański ze Stowarzyszenia Centrum Niezależnego Życia "Sajgon", które organizowało festiwal. – Pragnęliśmy, by ten dzień w uzdrowisku był dniem dobrej, żywiołowej, wspólnej, a zarazem szlachetnej rozrywki. Festiwal ten będzie zupełnie inny niż wszelkie istniejące, ponieważ będzie niósł optymizm, dawał radość życia, wprowadzał w pozytywny nastrój, łączył ludzi, a przede wszystkim, poprzez nośne hasło "Skrzyżowanie Gitar" będzie łączył różne style muzyczne – podkreśla.
Za stronę organizacyjną odpowiadało Stowarzyszenie Centrum Niezależnego Życia, Agencja Wydawniczo – Koncertowa "Sajgon" oraz ciechociński zespół "Skołowani". Impreza zorganizowana pod Honorowym Patronatem Burmistrza Ciechocinka i dofinansowana przez Urząd Marszałkowski Województwa Kujawsko-Pomorskiego, Starostwo Powiatowe w Aleksandrowie Kujawskim, Stowarzyszenie Autorów ZAiKS oraz Stowarzyszenie Centrum Niezależnego Życia w Ciechocinku.
Wystąpili na Happy Guitar Fest:
Ex Usu to zespół tworzący muzykę na skrzyżowaniu folku i muzyki alternatywnej, który sam nazywa etno-trans. Obok współczesnych brzmień w dorobku formacji można usłyszeć elementy muzyki dawnej. Agresywne motywy rytmiczne, wspierane gitarą, czy lirą korbową, przeplatane są łagodnymi partiami fletu i urozmaicane delikatnymi wokalizami. Zespół tworzą Martyna Renk, Daniel Biesiada, Kacper Kulpa i Krzysztot "Kisiel" Biaduń.
Partyzant to rodzinny duet ojca i syna, który tworzą Krzysztof Toczko (gitary, wokal) oraz Mikołaj Toczko (perkusja). Duet porusza się płynnie pomiędzy różnymi stylistykami, nie brakuje mocnych, rockowych riffów, bluesowych smaczków, humoru i zabawy przeplatanej zadumą. Ważnym, nieodzownym elementem koncertów jest interakcja z publicznością oraz nieskrępowana improwizacja.
Apostolis Anthimos, multiinstrumentalista, gitarzysta rockowi i jazzowy, związany m.in. z Dżemem czy SBB. Podczas festiwalu wystąpił w kwartecie ze wspierającymi go muzykami.
Easy Rider to blues-rockowy zespół założony w 1980 roku we Wrocławiu, koncertował m.in. z Krzysztofem Cugowskim i Tadeuszem Nalepą.
Skołowani, zespół związany z ciechocińskim Centrum Niezależnego Życia Sajgon. Dlaczego nazwa Skołowani? Bo troszeczkę zakręceni, wieczni chłopcy z siwymi głowami, dla których miłość, przyjaźń i rock and roll są największymi wartościami. A to, że dla dwóch z nich coś się przyczepiło do tyłka, nie ma żadnego znaczenia. Stały skład zespołu tworzą Jerzy Szymański, Krzysztof "Broda" Sieradzki, Adam Majewski, Krzysztof "Kisiel" Biaduń, Dariusz Grzelak, Juan Perez, Przemysław Ivo Gronkowski, Krystian Wierzchowski, Hubert Popławski.