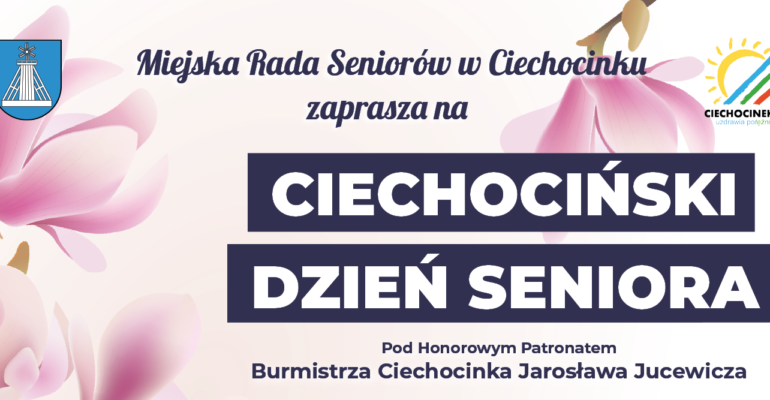 Ciechociński Dzień Seniora: muzyka, kultura i radość dla wszystkich!
Tegoroczny Ciechociński Dzień Seniora odbędzie się pod Honorowym Patronatem
Burmistrza Ciechocinka Jarosława Jucewicza
,
3 czerwca 2023 roku o godzinie 11:00 w Muszli Koncertowej w parku Zdrojowym. Wstęp jest wolny!
Na scenie zobaczymy Orkiestrę OSP Waganiec, Kabaret "Złota Maska" działający przy UdA Ciechocinek, Zespół Seniorów "Mimoza" z Wagańca, niezawodnego "Kresowego Barda" – Andrzeja Szczepańskiego, Studio Piosenki "Ajki" pod kierownictwem I. Krzysztanowicz, Zespół Seniorów "To i Owo" z Wołuszewa, utalentowanych wokalistów pracowni muzycznej Sławka Małeckiego przy MCK Ciechocinek, Zespół wokalny klubu Seniora+ "Niezapominajka" z Ciechocinka, Zespół "Medic-Retro" z Włocławka, Zespół Muzyczny "Pakościanie" oraz Zespół "Solinki" i dzieci z Ukrainy ze Szkoły Podstawowej nr 1 im. Józefa Piłsudskiego.
Nie możemy również zapomnieć o wyjątkowym występie solistki Grażyny Rutkowskiej-Kusy, finalistki konkursu The Voice Senior, oraz instrumentalistach – Pawle Dudziku na instrumentach perkusyjnych, Krzysztofie Zarembie przy pianinie i Jacku Pysiaku na gitarze klasycznej i basowej.
Na miejscu wiele dodatkowych atrakcji, takich jak bezpłatne badanie słuchu, pomiar ciśnienia, pokaz urządzeń rehabilitacyjnych oraz liczne stoiska gastronomiczne i rękodzielnicze. To tylko niektóre z wielu atrakcji, które czekają na Was podczas wydarzenia.
Patroni:
–
Aleksandrów Kujawski Nasze Miasto
–
Medincus Centrum Słuchu i Mowy
– Zdrój Ciechociński