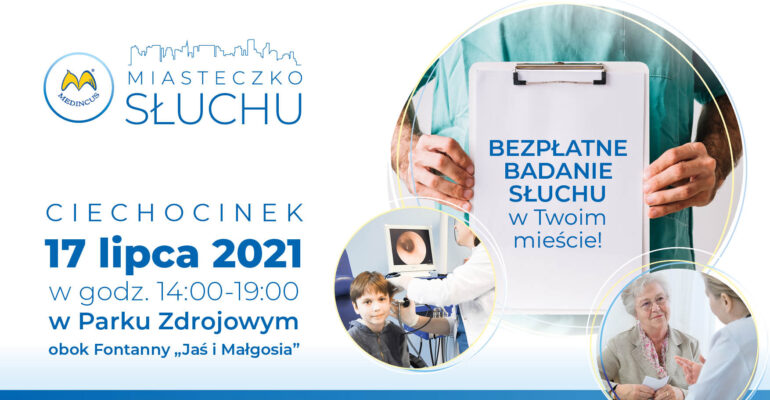 Bezpłatne badanie słuchu w Ciechocinku
Miasteczko Słuchu MEDINCUS w Ciechocinku
W ramach 17. Festiwalu Wielka Gala Tenorów specjaliści z Kujawsko-Pomorskiego Centrum Słuchu i Mowy MEDINCUS w Ciechocinku przeprowadzą bezpłatne badania słuchu. "Miasteczko Słuchu" to nowy cykl spotkań z pacjentami w różnych miastach Polski, stworzony przez MEDINCUS w celu promocji profilaktyki słuchu w myśl zasady "być blisko pacjenta". Potwierdzeniem tego jest rozbudowana sieć aż 15 naszych placówek w całym kraju, aby ułatwić pacjentom podjęcie, kontynuację leczenia i rehabilitację bez konieczności podróżowania.
Badania słuchu specjaliści MEDINCUS przeprowadzą w sobotę, 17-go lipca w dniu Wielkiej Gali Polskich Tenorów – koncertu gwiazd z okazji 185-lecia uzdrowiska Ciechocinek, w godzinach 14:00-19:00 w Parku Zdrojowym, obok Fontanny "Jaś i Małgosia". Do końca trwania koncertu będzie działał punkt informacyjny MEDINCUS. W Miasteczku Słuchu będzie można skorzystać również z konsultacji psychologicznej w zakresie zaburzeń słuchu oraz konsultacji w zakresie aparatów słuchowych.
Dbanie o słuch jest naszym obowiązkiem. Z tego powodu Centrum Słuchu i Mowy MEDINCUS inicjuje i prowadzi działania mające na celu rzeczywistą ochronę słuchu poprzez promowanie szeroko rozumianej profilaktyki i dostępu do badań oraz porad specjalistów – mówi prof. Piotr H. Skarżyński otorynolaryngolog, członek zarządu Centrum Słuchu i Mowy MEDINCUS.
Jak podkreśla Jolanta Gola, koordynator filii Kujawsko-Pomorskiego Centrum Słuchu i Mowy MEDINCUS w Ciechocinku – Dobra praktyka diagnostyczna powinna być dostępna w miejscu zamieszkania pacjenta dlatego sieć naszych placówek w polskich miastach regularnie się rozszerza. Nasza filia Kujawsko-Pomorskiego Centrum Słuchu i Mowy MEDINCUS ma na celu zapewnienie mieszkańcom Ciechocinka i całego województwa specjalistycznych usług. Zespół przychodni tworzą specjaliści lekarze otolaryngolodzy, foniatrzy, audiolodzy, audiofonolodzy, protetycy słuchu, technicy medyczni i psychologowie. Prowadzimy profilaktykę, diagnostykę, rehabilitację chorób uszu, nosa, gardła oraz krtani. Diagnozujemy i leczymy także zaburzenia równowagi u dzieci i dorosłych, zajmujemy się terapią psychogennych zaburzeń słuchu i mowy, protetyką słuchu oraz doborem aparatów słuchowych.
Honorowym Patronatem "Miasteczko Słuchu" MEDINCUS w Ciechocinku objął Leszek Dzierżewicz, burmistrz miasta. Ciechocinek to pierwsze miejsce na mapie cyklu spotkań specjalistów z pacjentami w ramach działalności "Miasteczka Słuchu".