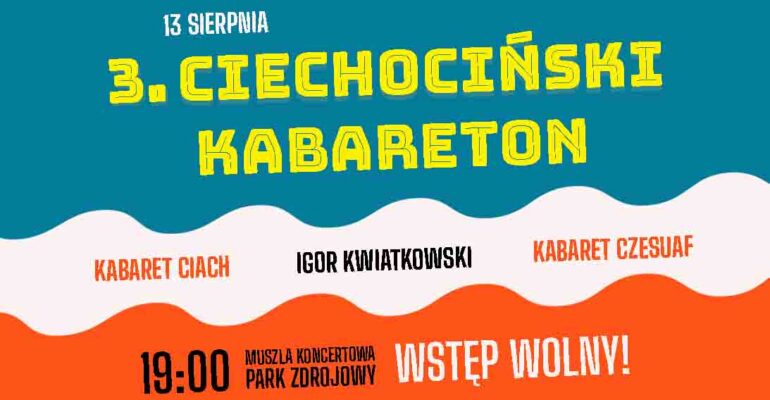 3. Ciechociński Kabareton, czyli terapia śmiechem
Po raz trzeci w Ciechocinku odbędzie się kabareton. Na scenie muszli koncertowej 13 sierpnia wystąpią formacje świetnie znane nie tylko miłośnikom gatunku: kabaret CIACH, kabaret CZESUAF oraz Igor Kwiatkowski w programie "Pół geniusz, pół kretyn".
W ubiegłych edycjach ciechociński Kabareton okazał się frekwencyjnym sukcesem. Występy artystów oglądało i nagradzało gromkimi brawami kilka tysięcy mieszkańców i gości naszego uzdrowiska.
Na deskach ciechocińskiej Muszli gościły już takie ekipy jak: Kabaret Pod Wyrwigroszem, Kabaret Smile, Kabaret Jurki, czy Rafał Zbieć i Mikołaj Cieślak z Kabaretu Moralnego Niepokoju.
W trzeciej edycji wydarzenia wystąpią:
CIACH kabaret założony w 1994 roku przez Tomasza Kowalskiego, Zbigniewa Gawrońskiego, Mariusza Matysika, Adama Magiera, Małgorzatę Czyżycką i Janusza Rewersa w Zielonej Górze. Grupa znana jest z programów pełnych różnorodnych tematów i niesamowitej energii. Zagrali w wielu realizacjach telewizyjnych i festiwalach, m.in. Listopadowa Noc Kabaretowa TVP2, Kabareton Opolski TVP1, Płocka Noc Kabaretowa TVP2. Aktualnie kabaret występuje w składzie: Małgorzata Czyżycka, Leszek Jenek, Tomasz Kowalski, Mateusz Czechowski.
CZESUAF to polski kabaret założony w 2002 w Poznaniu. Prezentują inteligentny, niebanalny humor dla widzów na scenach całej Polski. Przez czas swojego działania grupa stworzyła kilkanaście autorskich programów komediowych, zdobyła nagrody na największych festiwalach kabaretowych i wystąpiła w najważniejszych realizacjach telewizyjnych. Najbardziej rozpoznawalne numery kabaretu to m.in. "Mowa nienawiści", "Rośliny doniczkowe" i "Ferie w Zakopanem". Obecny skład: Wojciech Kowalczyk, Maciej Morze, Tomasz Nowaczyk, Olga Łasak.
IGOR KWIATKOWSKI artysta kabaretowy, autor tekstów i znakomity aktor niezawodowy, założyciel Kabaretu Paranienormalni. Niezrównany w swej wyobraźni i umiejętnościach parodystycznych, od lat zaskakuje coraz to nowymi kreacjami, które bawią i zjednują sobie sympatię tysięcy widzów. Porywające widowiska Igora Kwiatkowskiego wyróżniają się błyskotliwym humorem, żartami z najwyższej półki, aktualnością i niemal namacalnym kontaktem z publicznością. Spotkanie to gwarancja wielkich emocji i radosnych wspomnień.
Do zobaczenia 13 sierpnia o godzinie 19:00 w parku Zdrojowym! Wstęp wolny! Śmiech to zdrowie, a więc zwłaszcza dla kuracjuszy obecność obowiązkowa!