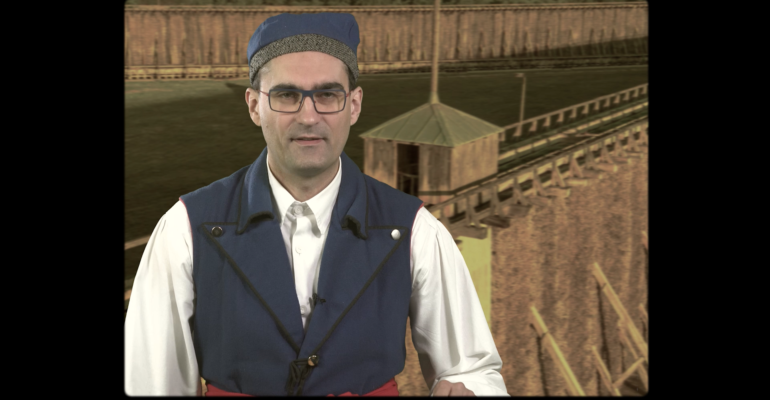 Powsinoga vloguje o Ciechocinku
Ciechocinek jest jednym z motywów najnowszego projektu Michała Tadeusza Gajewskiego. Chodzi o vlog, czyli wideomateriał umieszczony w internecie. Przedstawia on sto motywów powiatu aleksandrowskiego.
Nagranie tworzą archiwalne kroniki filmowe z lat 60, fragmenty filmów i seriali telewizyjnych oraz urywki z materiałów promocyjnych Ciechocinka czy Nieszawy. W krótkim filmiku udało się skondensować ponad 100 motywów związanych z centralnymi Kujawami. Poznajemy ciekawostki związane ze Stachurą, Chopinem. Możemy przenieść się do nadwiślańskich Białych Kujaw. Nie brakuje humoru i lekkiego sarkazmu.
– W pamięci cały czas migotały mi fragmenty seriali, których odcinki osadzone były w moim ukochanym Ciechocinku. Nie mogłem tego wymazać, więc wrzuciłem do internetu – śmieje się Gajewski. Na nagraniu mamy okazję zobaczyć migawki z serialu "Daleko od szosy" czy z "Jana Serce" oraz dłuższy fragment z "Ballady o Januszku" z Bronisław Pawlikiem w roli głównej.
– Moje związki z rodzinnymi stronami, z moją małą ojczyzną są bezustanne. Są naturalne. Cały czas tam wracam, a w zasadzie nigdy do końca nie wyjechałem. Toruń to mój drugi dom. Adres właściwy wciąż po drugiej stronie Wisły. Ciechocinek! – dodaje Gajewski.
Michał Tadeusz Gajewski to pochodzący z Ciechocinka animator i menedżer kultury. Skąd pomysł na vlog? – Organizowanie wydarzeń artystycznych chwilowo wstrzymane. W tym roku minie 15 lat od pierwszej imprezy w ciechocińskim Kinie "Zdrój", którą koordynowałem i wyprodukowałem z przyjaciółmi. Chyba potrzebowałem krótkiego odpoczynku – tłumaczy. I zapowiada kontynuację projektu.
Materiał zobaczysz na kanale pod adresem: youtube.com/user/pelnyekran