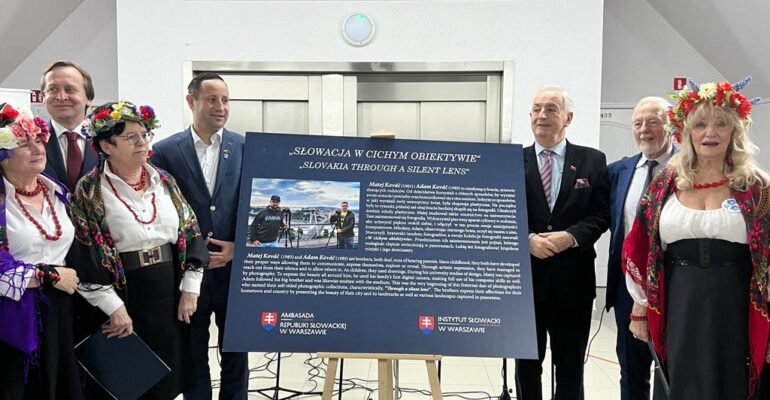 Wernisaż wystawy "Słowacja w Cichym Obiektywie"
3 lutego w Galerii "Pod Dachem Nieba" przy ul. Wojska Polskiego 5 odbył się wernisaż wystawy fotografii niesłyszących braci: Mateja i Adama Kováčów pt. "Słowacja w Cichym Obiektywie".
Wystawa została zorganizowana przy współpracy z Instytutem Słowackim w Warszawie, Towarzystwem Przyjaciół Ciechocinka, Konsulem Honorowym Republiki Słowackiej w Bydgoszczy i 22. Wojskowym Szpitalem Rehabilitacyjno-Uzdrowiskowym w Ciechocinku.
Bracia Matej i Adam Kováč to niesłyszący bracia, którzy od najmłodszych lat korzystali z różnych sposobów, by wyrazić swoje uczucia i potrzeby komunikowania się z otoczeniem. Na początku były to rysunki i ekspresje plastyczne. Później stworzyli braterski tandem fotografów, których przedmiotem zainteresowania jest pejzaż i krajobraz miejski oraz jego dominanty.
Na miejscu obecny był Milan Novotný – Radca Ambasady Republiki Słowackiej w Polsce, dyrektor Instytutu Słowackiego w Warszawie, prof. Wiesław Olszewski – Konsul Honorowy Republiki Słowackiej w Bydgoszczy oraz
Burmistrz Ciechocinka Jarosław Jucewicz.
Grupa artystyczna "Scena Marzeń" działająca przy Klubie Senior+ Niezapominajka zaprezentowała się w muzycznym występie artystycznym co stanowiło piękne tło do całego spotkania.
Serdecznie dziękujemy wszystkim za obecność i informujemy, że wystawa czynna będzie do 5 marca, od poniedziałku do piątku w godzinach 9:00 – 14:00. Zapraszamy!
Fot. Wanda i Janusz Wasiccy