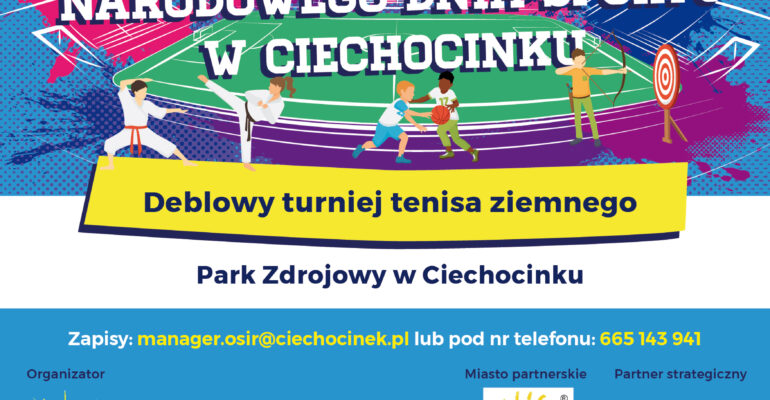 Zapraszamy na Turniej Tenisa Sportowego w ramach Narodowego Dnia Sportu
Nasze miasto dołączyło do grona Miast i Gmin Partnerskich XI edycji Narodowego Dnia Sportu.
Czym jest Narodowy Dzień Sportu? To ogólnopolska inicjatywa, podczas której w całej Polsce organizowane są setki darmowych wydarzeń, treningów, spotkań ze sportowcami. Celem jest promowanie aktywności fizycznej, zdrowego trybu życia i pasji sportowej wśród wszystkich grup wiekowych.
Więcej informacji
16 września zapraszamy na Deblowy Turniej Tenisa Ziemnego, który odbędzie się na kortach tenisowych w Parku zdrojowym. To doskonała okazja, by pokazać swoje umiejętności tenisowe i spędzić aktywnie czas na świeżym powietrzu.
Aby wziąć udział w turnieju, wystarczy się zarejestrować! Możecie to zrobić, wysyłając wiadomość na adres e-mail: manager.osir@ciechocinek.pl lub dzwoniąc pod numer telefonu: 665 143 941.