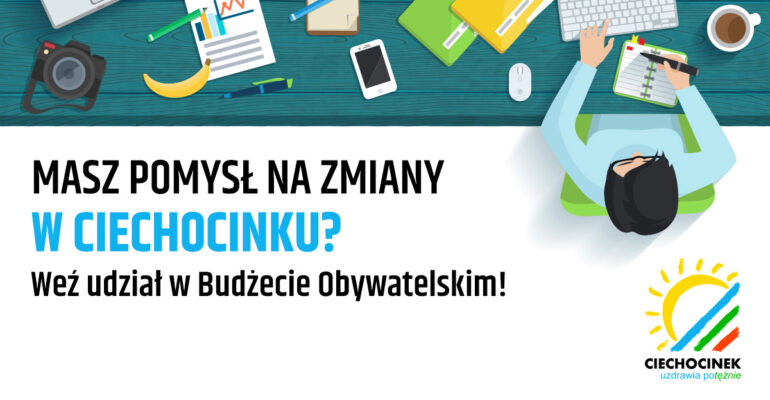 Trwa głosowanie w Budżecie Obywatelskim
Zapraszamy do aktywnego udziału w Budżecie Obywatelskim Ciechocinka!
Twój głos ma moc zmienić nasze miasto. Do 30 września za pośrednictwem strony https://ciechocinek.budzet-obywatelski.org możesz głosować na poniższe projekty:
Projekt 1: Poprawa estetyki i wyglądu Parku Sosnowego w Ciechocinku. Zwiększenie atrakcyjności dla mieszkańców, kuracjuszy i turystów.
To miejsce ma potencjał stać się atrakcyjniejsze dla naszych mieszkańców, kuracjuszy i turystów. Proponujemy: reaktywację fontanny przy głównym wejściu, zamontowanie podświetlanej tablicy z historią Parku Sosnowego, stworzenie odlewanej ławeczki z postacią zasłużoną dla uzdrowiska.
Projekt 2: Mural antysmogowy oraz renowacja głównej elewacji Szkoły Podstawowej nr 3 im. Polskich Olimpijczyków
Odmłodzenie fasady szkoły, stworzenie antysmogowego muralu związanego z sukcesami naszych sportowców. Mural ma edukować, motywować do uprawiania sportu i podkreślać znaczenie aktywności na świeżym powietrzu.
Projekt 3: Przebudowa nawierzchni na osiedlu Solanka przy ul. Zdrojowej 54
Przebudowa brakującego odcinka nawierzchni poprzez ułożenie 160m2 kostki brukowej wraz z obrzeżami i podbudową.
Projekt 4: Rozbudowa infrastruktury kortów tenisowych w Parku Zdrojowym
Zakup niezbędnego wyposażenia kortów poprzez m.in. budowę ściany tenisowej z piłkochwytami, montaż altany ogrodowej, zakup krzeseł i ławek oraz szczotek i czyszczarek. Dla miłośników tenisa to propozycja, która sprawi, że Park Zdrojowy stanie się jeszcze bardziej atrakcyjny.
Projekt 5: Zamiana ogrodzenia na żywopłot przy i wzdłuż bloku na ul. Zdrojowej 27
To projekt, który poprawi wygląd okolicy. Zakłada demontaż starego ogrodzenia, nasadzenie roślin wieloletnich w formie żywopłotu.
Projekt 6: Dyskusyjny Klub Komiksowy
Wsparcie dla Klubu Mangi i Anime, rozbudowa księgozbioru komiksowego w bibliotece oraz organizacja mini targów książkowych i warsztatów z pisarzem kryminałów. Kreatywne spotkania, warsztaty, które zainspirują młodzież do czytania.
Projekt 7: Rewitalizacja placu zabaw dla dzieci, PLAC ZABAW "JAK NA PLAŻY"
Najmłodsi mieszkańcy zasługują na bezpieczne i kreatywne miejsce do zabawy. Projekt zakłada m.in. zmianę nawierzchni placu zabaw przy ul. Kościuszki oraz dodatkowe atrakcje, w tym "żagle przeciwsłoneczne" i poidło wody pitnej.